Feral fishes in Western Australia
Most feral fish in Western Australia are found around urban centres, and it seems most recently, it is aquarium or aquaculture species making their way into our rivers.
As an example, Guppies are found at Exmouth and on Christmas Island, Tilapia (Mossambique Mouthbrooders) are found in the Gascoyne River near Carnarvon and the Chapman River near Geraldton, Swordtails are in the Irwin River near Dongara, Goldfish are in Busselton (and many other areas) and Rosy Barbs are in Jingarmup Brook near Eagle Bay.
The feral fishes of WA were reviewed in 2004 (see Morgan et al. (2004)) but since that time Pearl Cichlids have been introduced into Bennett Brook, Guppies have been found in additional areas near Exmouth, Rosy Barbs have been found at Eagle Bay, Spangled Perch in sites in the Canning, Swordtails in South Lakes and Silver Perch in the Harvey River. The new additions are actually likely to be much higher.
We have undertaken numerous feral control programs but it is well known that preventing releases is the most effective control method!
You are welcome to report feral fish to us, and in the interest of conservation, this information will be forwarded to the Department of Fisheries and the Department of Environment and Conservation. It will also be added to our database.
Below we provide you with information on the feral fishes in WA.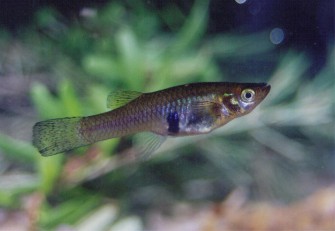 The Eastern Mosquitofish (Gambusia holbrooki) was introduced into WA for mosquito control in the 1930s. It has since spread from the Hutt River in the north to the Bremer River in the south-east. This aggressive live-bearer, fin-nips native fish and tadpoles, and often dominates systems. Don't let the species spread any further.
Further reading:
Gill et al. (1999), Morgan et al. (2004)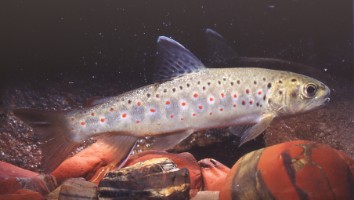 Brown Trout (Salmo trutta) are stocked into our rivers annually, but there are also a number of self-sustaining populations, such as in Waroona Dam and Big Brook Dam.
Further reading: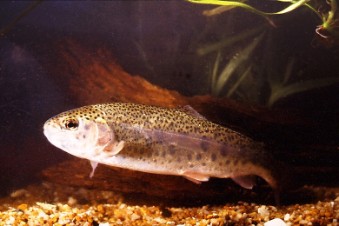 Rainbow Trout (Oncorhynchus mykiss) is stocked annually into south-west rivers and dams. It is known to prey on native fish and crayfish, and there are some self-sustaining populations around, e.g. Bancell Brook, Churchman Brook.
Further reading:
Morgan et al. (2004), Tay et al. (2007)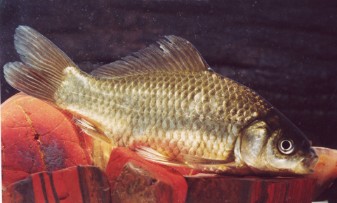 Goldfish (Carassius auratus) are now relatively widespread trhoughout the Swan Coastal Plain, which is not surprising considering that they are one of the more popular species amongst hobbyists.
Further reading:
Morgan et al. (2004), Morgan & Beatty (2007), ASFB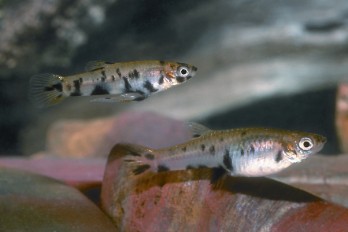 The One-spot Livebearer (Phalloceros caudimaculatus) is a central American livebearer that is now found in a few locations around the metro area, including Bull Creek and Lesmurdie Brook. A few individuals have been located in other areas, and the species has replaced Gambusia in Bull Creek. It is so successful as it is omnivorous, matures at a very small size and breeds throughout the year.
Further reading:
Maddern (2002), Morgan et al. (2004)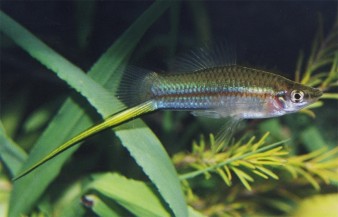 The Swordtail (Xiphophorus helleri) is found in the Irwin River and in a small lake near South Lakes. The males develop the sword on the caudal (tail) fin. They are another livebearing fish that can be aggressive.
Further reading:
Morgan & Gill (2001), Morgan et al. (2004)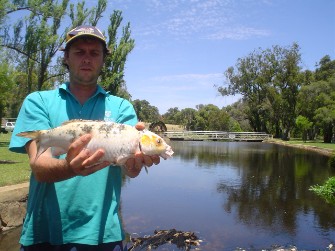 Koi Carp (Cyprinus carpio) are found in a few systems in the south-west. The one pictured here was caught in Gingin Brook. Another was recently caught in Margaret River, and this was referred to as 'Kevin' by locals. After eluding capture for many years, it was finally caught last year.
Further reading: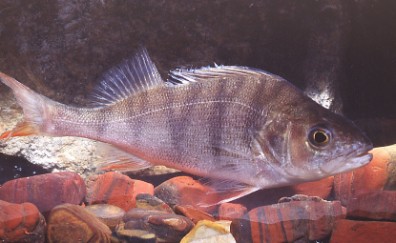 Redfin Perch (Perca fluviatilis) is often referred to as Perch or Eurasian Perch, and grows to a maximum of 50 cm. They have been shown to prey on native fish and crayfish, including Marron.
Further reading:
Morgan et al. (2002), Morgan et al. (2004)
The explosives being deployed in an attempt to eradicate Redfin Perch from Waroona Dam in 2003. See the report on mitigation of negative impacts of draining of Waroona Dam HERE. Our group has also conducted many similar aquatic fauna management projects in other major water supply dams. Contact us for more information or see our Reports page.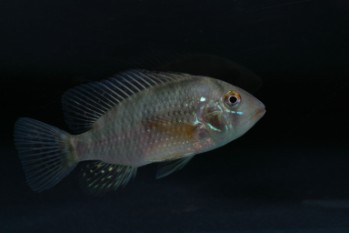 Pearl Cichlid (Geophagus brasiliensis) has been found in Bennett Brook and a number of control programmes have been put in place. We have worked with the Swan River Trust and the Bennett Brook Cichlid Committee to minimise the impacts of the species.
Further reading:
Beatty et al. (2010), Swan River Trust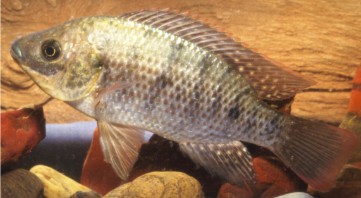 The Mossambique Mouthbrooder (Oreochromis mossambicus) is commonly referred to as Tilapia. This African native is now found in the Chapman, Gascoyne, Minilya and Lyndon Rivers. Males can become aggressive when guarding their nests, and in desert areas they nests can be seen to dominate the remnant desert pools. They are onmivorous and grow much larger than most native fishes they are found with. In the Lyndon River they have been caught in water with a salinity of 95ppt, which is almost three times seawater.
Further reading:
Morgan et al. (2004), Morgan & Gill (2004), Maddern et al. (2007)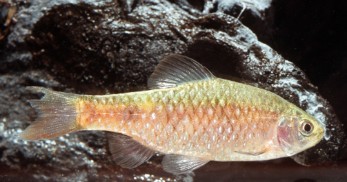 The Rosy Barb (Puntius conchonius) is a native of the subcontinent and in WA was introduced into Jingarmup Brook near Eagle Bay.
Further reading: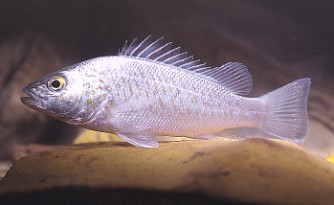 Spangled Perch (Leiopotherapon unicolor) has only recently been found in the Canning River and some urban lakes in the Canning catchment. Although it is Australia's most widespread native freshwater fish, and it is native to the Kimberley and Pilbara, it is not native to the south-west. It can be an aggressive species.
Further reading: